Slot Filler Kit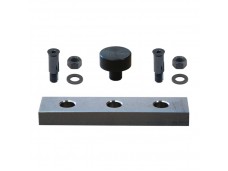 Brand:
BuildPro™
Product Code:
Slot Filler Kit
Availability:
In Stock
Price: RM0.00

Slot Filler Kit
PRODUCT DESCRIPTION:
Use the Channel Block and Rest Button when a flat, continuous support surface is required directly over the 40 mm table slots. Place the 3-hole Channel Block beneath BuildPro® plates, aligning with plate holes, and mount with Flush Mount Socket Head Shoulder Screws (included).
Place the Rest Button in the center hole of the Channel Block to provide a rigid work surface level with the tabletop.
The 16 mm shank on the Rest Button slip fits into the Channel Block holes. To elevate a workpiece above the tabletop surface, place multiple Rest Buttons directly into the 16 mm holes on the BuildPro® plate.
Kit T60930 includes:
1 pc. Channel Block (T61003) 160 x 40 x 16 mm
1 pc. Rest Button (T64200)
2 pc. Flush-mounted Screws (T932612)
* Not applicable to BuildPro® MAX table.
| Part No. | Weight (kg) |
| --- | --- |
| T60930 | 1.1 |
Application
The Slot Filler Kit provides a solid work surface directly over the 40 mm slots in the BuildPro® Table.

After mounting the Rest Button and Channel Block, the "filled" channel is level with the BuildPro® Table.